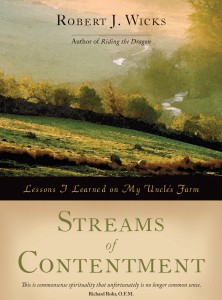 "A delightfully written blueprint for developing and polishing our personality into the beautiful person
we were intended to be."
Joseph F. Girzone, Author of the Joshua Series
For the first time, author, speaker, psychologist, and spiritual guide Robert J. Wicks opens a window into his personal life, relating stories of the people and places that have shaped his spiritual perspective in youth and early in his professional career. Streams of Contentment takes as its focus Wicks's experiences as a New York City boy spending summers on his uncle's farm in the Catskills. He highlights the resonance between life in the country and the insights of spiritual writers on gratefulness and mindfulness, concluding: "The crucial calling for me now is to be content with who and where I already am."
[Read the reviews of Streams of Contentment on Amazon.com]
With characteristic charm and insight, Wicks offers a simple prescription for finding contentment: have low expectations and high hopes, recognize that a little silence and solitude is no small thing, and discover the surprising power of humility. He also includes thirty brief reflections and simple practices for discovering contentment. In fifteen poignant, sometimes humorous, and always instructive lessons, Wicks builds on the insights first developed in Riding the Dragon to demonstrate how contentment is found through simplicity, gratitude, and compassion.
Reflections from Dr. Wicks on Streams of Contentment (Sorin Books)
This is my most personal book to date.  I have tried to use the gift of discretion as I felt Henri Nouwen did in his works.  I felt he revealed enough of  himself so you could identify with him but not so much that you wound up getting into his life but not yours.  The central theme I wanted to address is what I refer to as "the second risk" in life.  The first one is to be all that you can be; to develop your talents to the fullest and seek not to accept less than you should as you meet life with the gifts and graces you have been given.  The second one, which faces us in later adulthood though, is the hardest risk: It is to accept and enjoy all that is already in life.  To accomplish this, one has to become more aware of the streams of contentment and gratefulness that help us to become more aware of what is present but often ignored or less appreciated than it should be.  I truly hope this simple work helps people, especially those who have encountered life's rough spots.