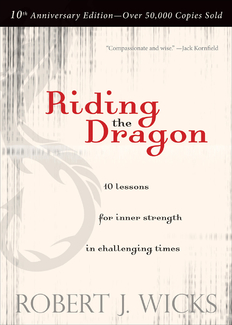 "All I had to do was read the chapter titles to know that this was one dragon I wanted to ride. Wicks is a master who makes the spiritual life exciting and doable."
Helen Prejean, Author of Dead Man Walking
With over 50,000 copies sold, Riding the Dragon: 10 Lessons for Inner Strength in Challenging Times has for a decade made itself an indispensable spiritual and psychological guide to readers experiencing seasons of adversity. This anniversary edition includes a new introduction from the author with personal reflections and fresh perspective on today's challenges.
"Don't try to slay your dragons, learn to ride them!" Drawing on Eastern and Western traditions, psychologist Robert Wicks emboldens readers to face life's difficulties—the "dragons" that escape from the cave. Readers will find guidance and encouragement to engage problems as a means to growth and transformation, to ride their dragons rather than slay them or drive them back into their cave. Wicks fashions ten simple lessons on identifying and confronting the everyday dragons readers meet: from engaging darkness to finding simplicity to keeping perspective.
Reflections from Dr. Wicks on Riding the Dragon (Sorin Books)
I have received the most email and personal comments about this book.  I have given or recommended this work to people who going through a tough patch in their lives.  I designed it to be brief, informative, and I hope encouraging to persons navigating darkness in their inner lives.  It is also the book I recommend to parents of young adults who are experiencing difficulties in relationships and at school, persons encountering tough physical problems, and those in demanding professions.