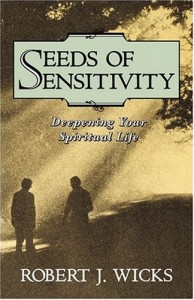 "Seeds of Sensitivity should be read by everyone, especially those who live their lives in service to others. [Wicks's] insights will help the reader come to a better understanding of hone's self as well as others, and how God relates to us all. . . This is the kind of book you will read not only once; indeed it is one that I will reread and reflect on many times."
Joseph Cardinal Bernardin, Archbishop of Chicago
Sensitivity is an essential attitude for caring people in a harsh world. In practical and hopeful book, Robert Wicks carefully leads us on the path of sensitivity, encouraging us not to withdraw from the darkness in our world and in our hearts and at the same time warning us of the pitfalls of cynicism and burnout. Drawing the insights of contemporary psychologists and spiritual writers, as well as on his own experience as a therapist and spiritual guide, Wicks invites readers to make a threefold commitment to sensitivity: to self, to others, and to God. Rooted in the richness of Christian spirituality, replete with helpful psychological strategies, and permeated by the author's warmth and humor, Seeds of Sensitivity is indeed a guiding light for those who seek to live a sensitive life.