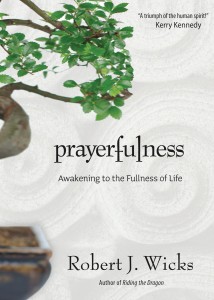 "Robert Wicks's books are always insightful and inspiring. Prayerfulness, provides people, especially pastoral leaders, with ways not only to pray but to live with a spirit of prayerfulness."
Most Rev. Gerald F. Kicanas, D.D., Bishop of Tucson
Blending insights from Christian contemplative practice and Buddhist mindfulness, Dr. Robert J. Wicks—well-known speaker, therapist, and spiritual guide—introduces what he calls "prayerfulness," a way of being truly in the present to experience God and life in dynamic new ways. Wicks offers a rich array of insights including seven practical steps, a thirty-day retreat, and a Spiritual Mindfulness Questionnaire. This creative combination of ancient wisdom and contemporary psychology is designed to help readers develop a loving, clear, and spiritually balanced outlook.
Reflections on Prayerfulness from Dr. Wicks (Sorin Books)
In this book, I wanted to take the wisdom of the East related to the theme of mindfulness and translate it in a way that Christians could use as a way of practically approaching prayer.  I love to explore other religions as a way to turn a light on my own tradition using the question: "Where is this in my own faith?"  When I do this I always find beautiful examples—especially in the writings of contemplatives and the Desert Mothers and Fathers.  I see this book as a companion to my earlier work, Everyday Simplicity.