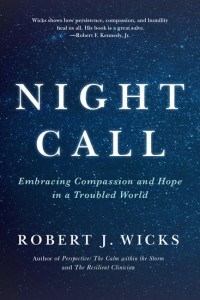 "Night Call is a valuable guide for people who wonder how to help those who suffer and for people worn down by the seemingly endless sickness of those they care for. With stories and words of wisdom, Wicks shows how persistence, compassion and humility heal us all. His book is a great salve."
—Robert F. Kennedy, Jr.
Caring for our family members, friends, and others is a central part of a rewarding life. For those in healing and helping professions such as medicine, nursing, education, psychotherapy, social work, ministry, and the military, the potential for a meaningful way of being may even become more possible. But, compassion is not easy. At times, concern for others can be personally devastating when we don't possess the right attitude and approach. Reaching out (and reflectively within) without being pulled down requires the wisdom that only arises out of the right combination of humility and knowledge.
Night Call offers the stories and principles gleaned over many years of writing and mentoring for those in the helping and healing professions. The stories are offered in ways that foster compassionate caring while encouraging initiative in those who seek to personally deepen and share their lives with others — especially in times of significant need.